Alaska Fishing Industry Employment
Alaska is one of the most beautiful and scenic places on earth. It's a favorite travel destination for people from across the world looking to see some of the best Mother Nature has to offer. Surrounded by the Arctic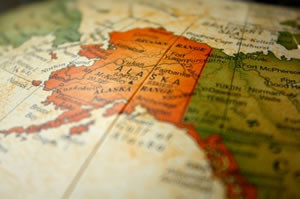 Ocean, Pacific Ocean, Beaufort Sea, Bering Sea and Gulf of Alaska, it makes sense that the fishing industry is a major part of the Alaskan economy. In fact, it's a fisherman's paradise, with an abundance of salmon, halibut, groundfish and crab ready to be harvested and distributed around the world.
There's no shortage of fishing jobs in Alaska. The fishing industry employs more people in the state of Alaska than the oil, gas, timber, mining and tourism industries combined. The industry is so big – it employs over 56,000 people for summer, seasonal and year-round employment – that the United Fisherman of Alaska (UFA), an umbrella organization that represents 37 Alaskan commercial fishing organizations, has its own Seafood Industry Hall of Fame! There are also over 22,000 other indirect jobs within the industry in the state and approximately 57% of these jobs are filled by non-residents.
Visit AlaskaJobFinder to find an Alaska Fishing Industry Jobs!
What types of jobs are available? Some are listed below:
Deckhand Jobs
Cannery Jobs
Onshore Processing
Offshore jobs
Floating Processors
Factory Trawlers
Factory Longliners
Crab Boat Jobs
Tender Boat Jobs
Aquaculture Jobs
Charter Fishing Boats
Learn more about Alaska Fishing Industry Jobs Opportunities
ALASKA FISHING INDUSTRY EMPLOYMENT OUTLOOK
The fishing industry will always be a key facet of the Alaskan economy. Full-time, part-time and seasonal opportunities are plentiful. The work is hard, and the hours are long, but those with a clear understanding of the type of job they are getting into will be able to make a smooth transition working in the Alaskan fishing industry. If you are looking to make some money for college, want a part-time or summer work to help pay the bills, or just want a new challenge, head to Alaska – the opportunity is there.
EDUCATION/TRAINING
Those looking to work as a deckhand, cannery or processing plant should be ready to learn on-the-job – and learn quickly – especially during peak months. The work is fast-paced so one must be able to withstand long hours on their feet in conditions that could be cold, wet, loud and full of fish guts. You will get dirty in this job. So, a willingness to work hard, the ability to work in a team environment with workers from a variety of locations, cultures and backgrounds and the ability to pick up the tricks of the fishing industry trade are what is needed to succeed. Others who have experience working in the fishing industry in other parts of the state – as well as Alaska, can use that experience to position themselves for jobs in Alaska.
Safety is important in this industry and it's heavily regulated and monitored. Working on a fishing boat does have its dangers and working in a processing plant requires safety measures to be followed at all times.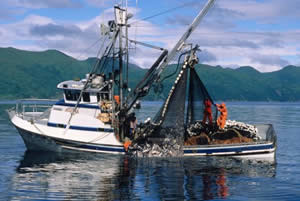 Those looking for more educational, training or learning opportunities can do so through the existing Seafood Labor Unions or through the UFA. They can be an advocate and provided support for those looking to get into or move around in the industry.
SALARY
Most part-time and temporary/seasonal jobs pay the Alaskan minimum wage of $7.75 per with $11.62 per hour of overtime offered. Those who have experience and come back to work after successfully completing one season could make from $9 per to $13 per hour of overtime. Some plants offer bonuses for those who successfully complete their work assignment. Pay is like other businesses, every two weeks, while others pay at the end of the season. Those working on a fishing boat crew are typically paid at the end of the season, with pay often being a percentage of the boat's earnings.
Food and lodging is provided at these fishing processing plants, but living quarters are tight and you will live with other people.
SUMMARY
The best thing to do is to research the many different opportunities in the Alaskan fishing industry. Read up on the locations that are hiring and the types of jobs to see if you can find one that works for you. Think ahead, most companies start hiring for the busy season well in advance. Keep in mind, while Alaska is a beautiful place, unless you can set aside some time on your own, you will be in a processing plant or on a boat, for example, the majority of your time in Alaska. It's not a vacation and there won't be time for sightseeing. Come to work – return to play.
NEXT PAGE: Learn About Cruise Line Employment
If you are interested in working in the Alaska fishing industry, definitely check out our premium employment website AlaskaJobFinder.