Employment with Cruise Lines
Want to work and travel with others who are on vacation, having the time of their life – and get paid for it? Have you been on a Royal Caribbean, Norwegian, Celebrity, American, Holland American, or AIDA cruise adventure and thought about working in the industry? Then a job in the cruise ship industry is for you.
Get a Cruise Ship Job through CruiseJobFinder
That's between 500 and 1,500 jobs per cruise ship. There have been over 100,000 cruise ship jobs created in the past six years. A cruise ship offers many different job and career opportunities. If you have the background, education, and desire to work in a service-oriented industry, then cruise ship positions like these could be right for you: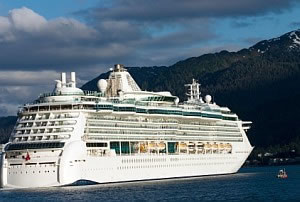 Cruise Ship Entertainer Jobs
Deck & Engineering Department Jobs
Offshore Cruise Jobs
Onshore Cruise Jobs
Cruise Ship Casino Jobs
Service & Hospitality Department Jobs
Shipboard Photographer Jobs
Cruise Line Childcare Jobs
Office Positions
Personal Care Department Jobs
Shipboard Spa Jobs
Cruise Director Jobs
Tour Guide Jobs
Yacht Crewing Jobs
View a list of cruise ship job description on CruiseJobFinder.
CRUISE LINE INDUSTRY EMPLOYMENT OUTLOOK
There are many jobs on a cruise ship. There are more than just the bartenders, host/hostesses, customer service staff, restaurant staff, and people operating the ship. That means job opportunities. Workers are needed to in positions such as IT staff, to work the gift shop, fitness instructor/personal trainers, deckhands, booking agents, administrative assistants, casino staff, disc jockey's cruise directors, dance instructors, massage therapists, and more. Cruise ships need to hire these people to fill their staff to offer travelers the best experience possible. Each and every cruise ship is like its own business. There is a leadership team, management, different departments and teams, entry-level workers and new employees. Jobs on cruise ships are no different than other jobs – they just offer more perks, better scenery, and travel opportunities!
EDUCATION/TRAINING
That being said, each position on a cruise ship will require different education and training. For example, an IT coordinator on a cruise ship should have a Bachelor's Degree in IT and/or work experience in a professional setting. A massage therapist or personal trainer should be certified. A cosmetologist needs to be licensed. A bartender, server or other hospitality worker should have previous industry experience.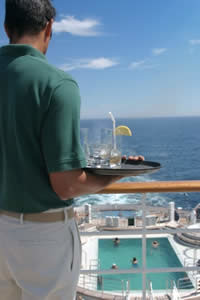 The education/training needed is no different than that that is needed for similar jobs outside a cruise ship. Some cruise ship workers take on multiple duties. Those who look for entry-level work on a cruise ship and then can back with education and/or experience in the department/segment they apply for will be the most desirable to cruise ship employers. Also, those who are bi-lingual or can speak multiple languages will be coveted by cruise ship employers.
SALARY
A wide variety of factors go into the type of pay one can expect on a cruise ship. Among them is the position, company you work for, size of ship and ship clientele, according to CruiseJobFinder.com, an industry-leading resource for cruise ship jobs . Salaries can range from $1,500 to $8,000 per month. There are other non-compensatory perk  in addition to your salary, such as: Reduced price cruise vacation for family/friends, air travel to and from paid for, free laundry service, free medical insurance, discounts at ship bars and restaurants and stores. Cruise ship jobs also provide the same benefits other companies – health/medical, retirement, life insurance, 401(k), and more.
SUMMARY
You may have had a great time on your 10-day cruise to the Mediterranean. But does that mean working in the cruise ship industry is right for you? Can you handle being away from home for long periods of time? Can you share a room with someone you may not know? Is life at sea – and in a foreign land – right for you? If so, then go for it! Most cruise ship contracts are three to nine months. It's an adventure, but it's also a job. If you are looking for a new challenge, new industry – and to travel and see the world while working with people from throughout the world, then this industry is for you.
NEXT PAGE: Learn About Oil and Gas Employment
If you are interested in working on a cruise ship, definitely check out our premium employment website CruiseJobFinder.com