Biotech Employment
The science, research and development industry is booming and job openings are plentiful – and pay well – for those with the right education, training and experience. One of the hottest is biotechnology. According to the Bureau of Labor Statistics (BLS) biotechnology work seeks to understand and use the fundamental processes of cellular life to develop more effective medicines, consumer products and industrial processes.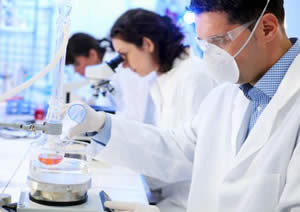 For example, the growth of biotechnology has led to disease-resistant crops, new ways of dealing with hazardous materials, new vaccines and drugs and improved enzymatic manufacturing processes, according to the BLS. These jobs aren't solely research based. While that is the main area of job growth, there are career opportunities in quality control and assurance, manufacturing and sales and marketing.
Biotechnology careers are controversial as well, as much of the work involves the deliberate manipulation of DNA to produce commercial products from living organisms. The reason is, biotechnology involves genetically modifying microbes, animals and plants. Anytime there is an altering of natural life, there is controversy.
Search Biotech Industry Job Listings
Those who work in biotechnology also work closely with those with backgrounds in nanotechnology, and in these fields/industries/positions:
Research and Development
Biological Energy
Biological Technicians
Biochemist
Genetic Engineering
Food Science
Environmental science
Law Enforcement
Materials Science
Pharmaceuticals
Health/medical
Forensics
BIOTECH EMPLOYMENT OUTLOOK
Many private and public companies, as well as the federal government, are investing in biotechnology and the job outlook is strong for this industry, with growth happening right now. Someone in this field may work in a laboratory, as a lab technician, researching, analyzing and recording data and information in a wide-variety of industries. Public companies are hiring and taking on new projects, and federal grants can keep big projects moving and open up new opportunities.
EDUCATION/TRAINING
This is one industry where those with advanced training will find the most success and job openings. There are numerous educational opportunities across the country. Many community colleges are offering Associate of Arts degrees for biotechnology technicians. Some of the more highly-respected biotechnology programs can be found at Purdue University, Stanford, University of California San Diego, Oregon State University and Northwestern University, with Bachelor's, Master's and Doctorate-level program available at all.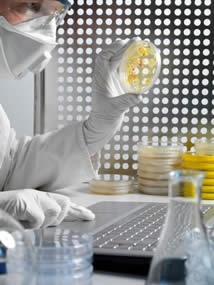 A background in biology, science, medicine, chemistry, physics, engineering and math will be required to complete a biotechnology education program and to move into a job in the biotech field.
SALARY
Salaries vary greatly in this profession. For example, biochemists and biophysicists made about $94,000 in 2013, with microbiologists making about $67,820. Those with Doctorate's and leading high-level research are well paid, well over $110,000 to $200,000 pending on variables. On the average, a research associate could make about $47,000 and a research scientist about $97,000, according to the BLS. Generally, these are high paying professions compared to other fields.
Search Thousands of Biotech Industry Job Openings
SUMMARY
The biotech industry is regulated by the U.S. Food and Drug Administration (FDA), the Environmental Protection Agency (EPA) and the Department of Agriculture (USDA). This field is not without controversy, but it is considered cutting edge and opportunities will continue to grow as the American government and public companies continue to research and develop new sciences and incorporate that into ways to improve our everyday lives.
Here are some of our favorite resources for biotech careers: