Careers in Nursing
Nurses hold one of the most important positions in a health care organization. They tend to the medical needs of sick and injured patients in a variety of settings, including at hospitals, clinics, nursing homes or schools, for example. They administer a wide-range of medical treatment, from treating children who have a minor cold to working in a fast-paced trauma center with people dealing with serious accidents or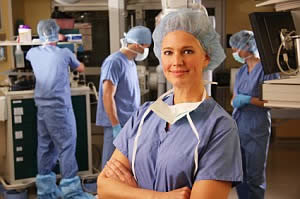 emergency situations. They find themselves in rewarding situations – helping people get better from injuries or health-related issues. They also find themselves dealing with patients who may be terminally ill, or who may hear life-altering news during their medical visit. They draw blood, report test results, administer shots and medicine, take blood pressure, assist in surgery and complete charts and patient forms, among many other duties and responsibilities. In addition to tending to the medical needs of patients they are often a liaison between the patient, family and doctor.
There are many different titles and responsibilities in the nursing profession, but no matter the title the goal of all nurses is the same: To help those who need medical attention in a variety of settings.
Another attractive aspect of this profession is the fact that nurses are needed 24 hours a day, 7 days a week. Nursing is a great profession for those who like the opportunity to work a flexible schedule, non-traditional hours or weekends only. Nurses are also needed on a full-time, part-time and on-call basis.
Visit NursingJobFinder, to find a Nursing Job
There are many nursing specialties, including:
Advanced Practice Nursing (APRNs)
Certified Registered Nurse Anesthetist (CRNA)
Certified Nursing Assistant (CNA)
Critical Care Nurse
Emergency Room Nurses
Home Health Nurses
Hospice Nurse
Licensed Practical Nurses (LPNs)
Licensed Vocational Nurse
Nephrology Nurses
Nursing Aids
Nurse Practitioner
Nurse Midwife
Obstetrics Nursing
Occupational Health Nurse
Public Health Nurse
Registered Nurses (RNs)
School Nurse
Travel Nurse
NURSING EMPLOYMENT OUTLOOK
This is one of the most in-demand professions in the United States. If there is a top-10 list of Hot Jobs of the Future, you can bet nursing will make that list. Studies have shown that by the year 2020 there will be a shortage of 800,000 nurses. With an aging – and increasing population – the demand for good health care is at an all-time high and nurses are needed to fill positions throughout the country. Despite this expected growth, the Bureau of Labor Statistics (BLS) reports that the demand and growth for nurses will depend on geographic location and type of nursing service. For example, nurses in doctor's offices, home health nurses, nursing home nurses and those who work in hospitals are where the most demand will be needed. Surprisingly though, because of rising health care costs and over-crowdedness, the demand for nurses to work in hospitals isn't going to grow nearly as much as the other opportunities listed above.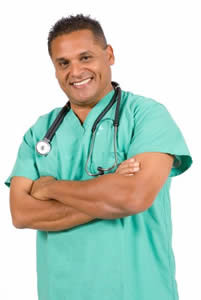 SALARY
One of the other attractive aspects of working in nursing is the jobs pay well. According to the BLS, the average wage of a RN is just over $68,000. The lowest salary was just over $43,000 while the highest paid earners made over $96,000. According to the BLS, The average salary of a LPN varies from just under $46,000 on the low end to about $59,000 on the high end. Salary can also vary pending on type of nurse. For example, a Certified Nurse Anesthetist (CRNA) makes an average of about $148,000, while a Nurse Practitioner makes an average of about $87,000.
EDUCATION/TRAINING
There are a number of ways to get an education to get into the nursing field. Most colleges offer a bachelor's degree or associates degree in nursing. There are two-year and certificate programs through community/junior colleges and trade/technical schools. Aspiring nurses who complete a four-year Registered Nurse (RN) program will have an advantage in many cases, of getting hired over those with lesser academic credentials. However, because of the shortage of nurses, getting any type of nursing degree can be a good way to start. Many nurses become Licensed Practical Nurses (LPNs) and then after working for a few years or longer, go back to school to complete their education to become an RN. Nurses are required to pass educational and testing requirements before working in this profession. There are also advanced programs in nursing, such as Master's and Doctorate programs. Those with advanced education can find themselves in upper management or leadership roles, such as a nurse administrator, where they oversee the entire nursing staff of a hospital or clinic, for example. Unlike other professions, some form of higher education is required to become a nurse. The good news is there are numerous educational opportunities and programs available for aspiring nurses.
Search Thousands of Nursing Job Openings
SUMMARY
There is a great opportunity for people who aspire to become a nurse to find employment and succeed in this field. With the right education and training there has never been a better time to search for employment as nurse.