Positions in the Retail Industry
Many people get in to jobs in the retail industry because they like the product that is being sold. For example, someone who is into fashion is attracted to working at a high-end department store that sells the latest clothing trends. Or, someone who is into sports may chose to work in a sporting goods store.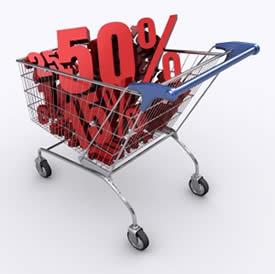 A person who is into fixing and building things may choose to work at a home improvement store. If there is a product, there is likely some form of retail store that needs workers. The most popular are department, clothing, sporting goods, home improvement, electronics and automotive stores. No matter what type of retail store, those working in these stores are all have one goal in mind: To sell products and provide good customer service that entices the customer to buy and come back to buy again.
Those who work in retail stores must be able to provide detailed information about store products, as well as be able to run a cashier, make basic financial transactions with the help of a cash register, stock goods, answer customer phone calls and work with a wide variety of team members, from managers to new hires just learning how the store operates. Many working in retail positions will work nights and weekends, because that is when retailers are the busiest – especially during the holidays.
Not only must someone who works in this industry know the product(s) they are selling, they also must be friendly, outgoing and customer-oriented. Those who work in retail will work with people from all walks of life and deal with those who are polite, friendly and courteous, to those who are rude and vulgar. Retail workers also must learn to focus on loss prevention, and deal with possible theft of merchandise on the job. Here are some common jobs:
Assistant Manager
Cashier
Customer Service
Department Manager
Floor Leader
General Manager
Loss Prevention
Regional Manager
Sales Associate
Sales Manager
Store Manager
Stocker
Team Leader
EMPLOYMENT OUTLOOK
These are good first jobs, part-time jobs and during the holidays, temporary jobs for those looking to make extra money. At the same time, because of this, there is high turnover in this industry, so there are always retail opportunities available, but they may vary by industry and location. Larger cities tend to have larger opportunities in retail, as those cities provide the goods and services needed by the members of the community. Many of the associate-level jobs in retail are first jobs, held by teenagers or college students who are using this job as a means to something else. If one has a retail job they do covet, it's best to check with each individual store manager about openings and to complete an application. The overall outlook for these jobs is good as the turnover of workers means there are many new opportunities for those searching for work in the retail industry.
SALARY
These are some of the lower-paying jobs, especially the entry-level positions, which are often paid minimum wage to those new or with no experience (Federal minimum wage is $7.25 per hour, but some states have different minimum wages) according to information provided by The Bureau of Labor Statistics (BLS). According to the BLS, the average pay of retail workers is between $8.26 and $13.35 an hour. Many retail positions offer a base-salary plus commission as a way to entice sales associate to promote/sell products. Salaries increase for those working in management roles, with retail managers making an average of over $35,000 according to the BLS. Again, these positions often offer commission and bonus opportunities for those in manager roles.
Search Thousands of Retail Industry Job Openings
EDUCATION/TRAINING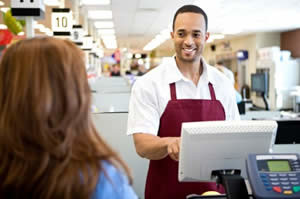 There are many retail workers who move into key management roles without a formal education. In some cases, on-the-job training is the best way for those who work in retail to learn how a specific business works, and to learn the specific product/industry that one is selling. Despite this, those with bachelor's degrees or some form of higher education training, such as an Associate's Degree, could align themselves to stand ahead of their peers when seeking management positions as more and more employers are looking for those with advanced education to take over leadership roles. Many retail workers start out working at a company store, complete a degree and then move into full-time roles in the corporate office of the company. For example, Target headquarters in downtown Minneapolis features a number of workers whose first job was working at a Target department store as a teenager and through college. They then completed their education and moved into a job at the corporate headquarters. While there aren't many formal degree programs in retail/retail management, college programs and degrees in merchandising, marketing, sales and management can help one advance in this profession. That, along with a customer service background can go a long ways towards success in this industry. Those who are bilingual (especially Spanish speaking) can really increase their ability to succeed in a career in retail.
SUMMARY
There are always opportunities to find employment in the retail industry, but those types of jobs are going to vary greatly pending on location and types of industries are available. These are great first jobs for high school and college students looking to learn skills to advance in future careers. They are also good jobs for the people who have a passion/interest in the products they are selling and promoting, as those people who truly enjoy the environment they are working in will find the most success. And happiness.