Ski Season Jobs
Every winter skiing enthusiasts from around the world head to hot spots such as Aspen or Vail, Colorado, Cortina, Italy, Mont-Tremblant, Quebec and Stowe, Vermont to take in some of the best skiing opportunities in the world. They head to resorts in Park City, Squaw Valley and Whistler, to name a few, to hit the mountains, slopes and half-pipes in an environment that is as scenic and breathtaking as it is challenging and competitive.
Every year, thousands of seasonal employees head to these same hot spots – and the hundreds of smaller ski resorts – to work in this fun and rewarding job. In fact, while it may be cool on the mountains, the jobs at these resorts are hot hot hot – and in demand. While many of these jobs are temporary/seasonal, some ski resorts provide year-round work and opportunity.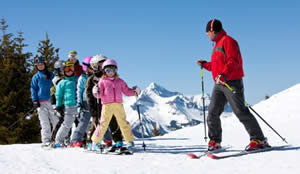 TYPES OF SKI INDUSTRY JOBS
Ski Instructor
Snowboard Instructor
Ski Coach
Ski Technician
Ski Patrol Member
Ski Representative
Lift Operator
Ski Shop Workers
Resort Operations
Support Staff Worker
Restaurant/Hospitality
OVERVIEW
Sounds fun doesn't it? Waking up and spending the day skiing, teaching people to ski or hanging out with people who are having the time of their life. You bet it's fun – but it's also work, hard work at that. Those working in the ski resort industry must remember, this is a service-oriented job. It's all about providing resort clientele with a dream vacation – something they will remember the rest of their lives. Okay, it's still a pretty fun gig. That's why those with outgoing personalities, zest for helping people and those who love everything about the resort atmosphere find the most success and happiness.
Because these are resort, these are full-service vacation destinations. People come for the room and board, the restaurants, the ambiance, nightlife and charming/breathtaking environment with people working at the resorts catering to their every need. Those who have experience and/or can provide those services – a job is waiting for you.
EMPLOYMENT OUTLOOK
Those looking for part-time and seasonal work, this job is for you! The demand is high to work in many of the hot spots mentioned above, and it's the same for the many smaller ski resorts near you. Plan ahead when applying for these jobs – many resorts have hiring fairs or information on when to apply on their web site. Keep in mind, you may have to find a place to live on your own, or you could be provided room and board. However, there is likely no relocation assistance since many seasonal workers come from throughout the United States.
SALARY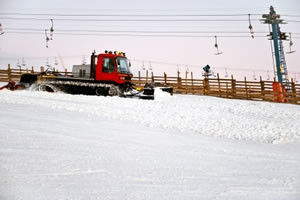 Many ski or snowboarder instructor positions pay around $9 to $15 per hour. Not what you hoped for? Keep in mind, ski instructors often are tipped for outstanding service and performance. And the more experience, training and certification you have the more you can get paid. Each resort has its own pay scale so the pay for a ski lift operator at one resort can be different than the same position in another state or at another resort. Those working in the restaurant hospitality industry can find similar industry-standard wages and the servers/bartenders also work off of tips.
EDUCATION/TRAINING
There is the Professional Ski Instructors of America (PSIA), which has nine offices throughout the United States to assist aspiring ski instructors. Those who are PSIA certified and advance through the different levels of training set themselves up for better pay, more hiring opportunities, and a greater increase of earning promotion. Another fast-growing group is the American Association of Snowboard Instructors (AASI). Those looking to work as a ski patrol should have a background as an Emergency Medical Technician, first responder, basic life support, be CPR Certified and complete the NSP Outdoor Emergency Care course. This can be a high-pressure job that requires working in dangerous and extreme conditions. Those who have experience in the hospitality industry – at hotels, other resorts, in restaurants, or retail, will have the best chances of getting hired in non-instructor positions at a ski resort.
SUMMARY
Ski resorts are popular destinations for families, individual ski enthusiasts and couples looking to get away. Jobs in this industry are filled fast – those with the right work history, training and experience move to the top of the list. If you are looking to break into the industry before moving on to the world's skiing hot spots, consider startling at a local ski resort near you. Try to learn as much as you can about every aspect of the business – from being a ski lift operator to snowboard instructor, working in the retail shop and/or even the restaurant. Get in anyway you can and create diverse skill set and you can soon be working where others go to play.