Employment with Casinos
When it comes to working in casinos, there is no hotter spot than the bright lights of sin city – Las Vegas, Nevada. The casino and gaming industry has made Las Vegas the world's greatest gambling and entertainment hot spot. Other locations such as Reno, Atlantic City and Lake Tahoe are also known for some of the world's biggest and most popular gambling establishments. But the United States isn't the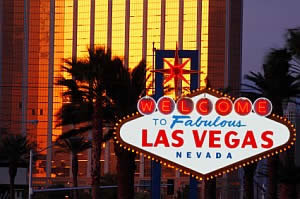 only hotbed of casino entertainment. Casinos in Lima, Peru (Delfines Hotel & Casino), Panama City, Panama (Riande Granada Hotel and Casino), Busan Guangyeoksi, Korea (Paradise Hotel and Casino Pusan) and Cebu Philippines (Waterfront Airport Hotel and Casino) have made traveling to casinos an international tourist attraction. And even though these are biggest and best of the best, casinos are as popular as ever in these big cities, small towns and remote locations across the country.
Because of this, it's safe to say there are many different jobs and roles in a casino. There are the people casino clientele see, such as the black jack dealer, the cocktail server and the security guard. There is the customer service rep, the teller and the bartender all working while others play the many games within a casino. Then there is the behind the scenes workers – the security and surveillance officers, the administrative staff managing all casino operations. There is human resources working on hiring, training and employment issues. There is a sales and marketing department promoting and trying to raise awareness of the casino. There could be thousands of people at a casino at one time, with hundreds of staff working at the same time. The work is fast-paced and can provide excitement and entertainment meeting and working with a wide variety of people. This is a customer service-oriented profession. People come to casinos for entertainment purposes and to take a chance at getting lucky at one of the many games in a casino. It's the job of casino staff to make that experience even more enjoyable.
Search Casino Industry Job Listings
TYPES OF CASINO JOBS:
Black Jack Dealer
Bartender
Cashier
Casino Manager
Cocktail Server
Customer Service Rep
Gaming Dealer
Chef/Cook
Gaming Manager
Security Guard
Shuttle Driver
Slot Key Personnel
Sports Book Writer
Surveillance Officer
Teller
CASINO EMPLOYMENT OUTLOOK
According the Bureau of Labor Statistics, jobs in the casino industry are expected to grow by an average of 13 percent between 2014 and 2020, which is higher than average when compared to other occupations. Because of the fact many states are struggling economically, many states are considering adding casino gambling as a way to help generate money for the state to help with budget shortfalls. Many other casinos are owned by Native American communities and they have their own laws and regulations which may differ from state-run casinos. Be sure to understand any differences when applying for jobs at various casinos.
While slot machines and games such as Black Jack are still popular in casinos, the rise in popularity of poker has opened up more card clubs across the country. For example, Canterbury Park in Shakopee, MN is known for horse racing, but recently added a card room that is constantly full. The Naples, Florida Dog Track also added a poker room as an addition to dog racing. Poker rooms are also full at casinos and this interest will increase the need for workers such as servers and bartenders to serve customers playing cards.
Despite economic struggles, casinos seem to consistently stay busy, and business remains good despite any other economic woes.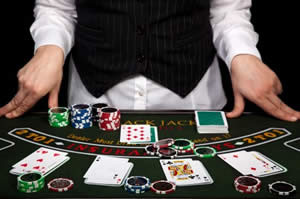 Those looking to work in the casino industry must be prepared to work in smaller towns/cities as most casinos across the country are located outside of major metro areas.
SALARY
The salaries vary greatly pending on position within a casino. According to the BLS gaming managers make an average of $73,420 as of the end of 2013. Gaming supervisors make about $48,300 and dealers make about $17,420. However, dealers often can make much more through tips. Slot key personnel make an average of $25,460 (but do also get tips). Those who seek entry-level employment with no experience in a casino can expect wages at or slightly above minimum wage.
Search Casino Industry Job Listings
EDUCATION/TRAINING
Job seekers with a wide variety of education, training and skill sets are employed in casinos. Those who move into management and administrative roles likely will have a Bachelor's Degree or Masters Degree in business, economics, sales, management or hospitality. A combination of education and industry experience is what employers look for when they search for those to fill leadership roles at casinos. For many other positions, a high school degree or GED may be all that is needed to find stable employment at a casino.
Those who are outgoing, customer-service oriented and knowledgeable about casino games, such as dealing blackjack, will be attractive to employers. A job seeker with a background and training in law enforcement, private investigation or with a military background could excel in a security role. However, it is possible for security guards/personnel to get hired and learn on the job. A gaming manager may oversee all operations of the gaming floor, and that could require a degree or experience, or someone with a strong understanding of the gaming/casino industry. Because restaurants are an important attraction at casinos, executive chefs will need to have high-level experience and training, but there will still be a need for kitchen workers and cooks who can learn on-the-job. Bartenders and cocktail servers with industry experience will also have the greatest opportunity of gaining employment. Many casinos provide on-the-job and company-related training programs that allow for growth within an organization. Those who prove they can be trusted with money and handling the financial transaction of a casino will also be attractive for various positions at a casino.
Search Casino Industry Job Listings
SUMMARY
Each state and casino has its own regulations and laws that make each job opportunity different than the other. Despite this, casinos are a multi-billion dollar industry and operate 24 hours a day, 7 days a week. There is a good opportunity to find work that fits just about any schedule in a variety of skilled and unskilled positions.
Those who have previous experience in a casino are most attractive, as proof of experience within the casino industry are key. Casino workers may face rigorous background checks and pre-employment screening because there is gambling involved. For those without experience its best to check with each individual casino for the types of jobs that are available.