Truck Driver Employment Opportunities
Want to haul freight across the country, with the open roads as your office? No cubicles here – all you need is a big rig, full load and you're on your way. Or maybe you just enjoy being behind the wheel, with the adventures of the road your workspace. If so, then a truck driving career is right for you. It's currently the right job for over 3.3 million American workers, according to the Bureau of Labor Statistics (2012), and because America depends on getting products transported throughout the country, truck drivers will always be in demand. Where are the jobs and what types of jobs are out there? Read below to find out.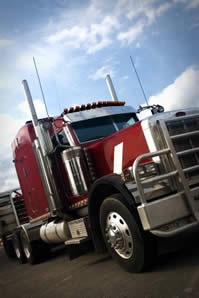 EMPLOYMENT OUTLOOK
According to the BLS, the outlook is positive for aspiring truck drivers. One hot job is that as a long-haul driver, a job that requires driving cross country (literally hundreds and even thousands of miles) to reach their destination.
Most of the jobs in this industry are tractor-trailer and heavy truck-related (56 percent). Other positions are light/delivery service jobs (31 percent). The industry is expected to grow 9 percent between now and 2020, according to the BLS.
One other key element of gaining employment in the trucking industry: A clean driving record. Any marks against your driving record can eliminate or hurt your chances of getting hired.
Many truck drivers aspire to be home at night, so competition for those jobs that return drivers home each night is greater than other positions.
Search Truck Driver Job Listings
SALARY
According to the Bureau of Labor Statistics, truck drivers specializing in heavy and tractor-trailer driving, made an average or just under $19 per hour in 2014. The salaries ranged from $11.87 on the low end to $24.14 on the high end. The highest paid workers made just over $28 per hour. The hourly wage for delivery service drivers was $14.42, with most making between $10 to $18.55 per hour. Many truck driving positions pay bonuses for maintaining clean driving records. Owner-operators set their own rates and are hired by companies to work on a negotiated basis. There are union and non-union truck driving jobs, with the most prominent union being the International Brotherhood of Teamsters. This organization works with truck drivers on issues such as pay, benefits/insurance, vacation and other aspects of a total compensation/rewards package.
TRUCK DRIVER TRAINING
Think these jobs are for the unskilled job seeker who doesn't have other options? Think again. Truck drivers are highly-skilled professionals who have a number of responsibilities. Safety first in this industry,which is why those with the right training, education and a clean driving record rise to the top of this industry. There are many certified truck driving schools across the country that help aspiring drivers learn the tricks of the trade. Many companies also hire drivers and put them through rigorous testing/probation periods to maximize the learning process. A combination of behind-the-wheel and classroom training, followed by stringent testing is required to graduate from an accredited truck driving school. For example, Sage Technical Services provides training in 13 states throughout the country and guarantees private driving instruction for every student and a minimum of 44 hours behind-the-wheel training. Many local technical and trade schools also offer truck driving training programs. Many also offer job placement assistance. Specific licenses, such as Commercial Drivers License (CDL) or a Class B, are needed. Earning hazardous materials endorsement (called HazMat in the industry) is also valuable. Those who drive smaller vehicles, such as a small/light truck or van may not need anything more than a regular driver's license.
Search Thousands of Trucking Industry Job Openings
SUMMARY
The world will always need goods transported. The performance of the American economy will also dictate job growth. The more goods and products that are ordered and needed, the higher the demand will be for people to transport these items. It may take a few different jobs in the industry – such as working OTR (Over-The-Road) or doing a local route, and for a few different companies to find your niche, but those who stick with it find life on the open road to be an opportunity they truly enjoy.